Set Up That Two Needle Carb!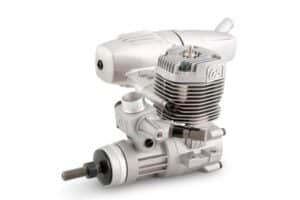 Main Needle
STEP 1 – Fill the tank to at least one third full
STEP 2 – Open the throttle fully and close main needle completely
STEP 3 – Open needle three whole turns from closed
STEP 4 – Place a finger over intake and with a gloved hand rotate propeller 6 times
STEP 5 – Remove finger and close throttle to one third open
STEP 6 – Connect glow plug battery
STEP 7 – Start engine – either by hand or starter motor
STEP 8 – Remove glow clip (with care)
STEP 9 – Gently (very important) open throttle to flat out setting
STEP 10 – Hold nose of model up at 60 degrees or so, keeping clear of propeller arc
STEP 11 – Close main needle inward SLOWLY until engine rpm's peak out to a crisp two-stroke
STEP 12 – Open needle one or two clicks out from absolute rpm
Idle Needle
STEP 1 – Close throttle to one quarter (i.e. fast idle)
STEP 2 – OPEN secondary needle to one quarter turn
STEP 3 – WAIT for 5 seconds and observe results
STEP 4 – If idle slows close needle back to where it was
STEP 5 – CLOSE needle one quarter turn
STEP 6 – WAIT for 5 seconds and observe results
STEP 7 – If idle speeds up then you are turning in the right direction – opening or closing the needle until idle speed peaks is your goal
STEP 8 – Open engine throttle wide and check for crisp response
STEP 9 – If the engine hesitates open secondary needle by a click or two
STEP 10 -If engine splutters and throws fuel droplets from the intake close secondary needle by a click or two
FINALLY Open throttle wide and recheck main needle setting with nose raised
DO
DO Make sure your plumbing isn't leaking with no bubbles in the fuel line
DO Mount fuel tank securely in foam supports
DO All FULL POWER adjustments with nose of model held at 60 degrees nose up
DO Set up engine with at least one third tank of fuel
DON'T
DO NOT TOUCH THE MAIN NEEDLE SETTING OTHER THAN WHEN COMPLETELY ON FULL THROTTLE (i.e when the carb barrel is fully open) – this is the most common mistake !
DO NOT Make engine adjustments with the glow clip connected
DO NOT Make adjustments with the propeller arc either in line with your body or and up to 10 degrees either side (propeller blades moulded at an angle – and therefore fly off at an angle !!!!)
DO NOT Assume if a glow plug glows or is new that it must be OK – it could well be faulty – if the element looks grey or distorted, throw it away and treat your motor to a new one !
DO NOT Leave fuel in your fuel tank between flying sessions
DO NOT Make adjustments from flight to flight (the second most common mistake)