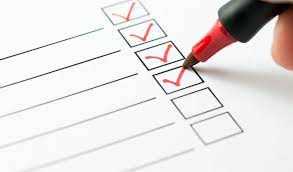 General Notes
This check list is intended to help newcomers to the sport operate in completely safe manner. Thanks to Steve Hall for putting this together – print it off if you like!
Wait for an available instructor when using the checklist and make sure you inform your instructor or examiner what you are doing and why!!
THE FOLLOWING IS A GUIDELINE. TRY TO MAKE SURE IT BECOMES A HABIT BEFORE EACH & EVERY FLIGHT.
Before Fitting the Wings
NOTHING LOOSE OR FLOPPING AROUND TO SNAG ANYWHERE
Pre Flight Check List
MAKE SURE THE AIRCRAFT IS ANCHORED DOWN FIRMLY
UNDERCARRIAGE SECURE & STRAIGHT
CONTROL SURFACES SECURE (GIVE THEM ALL A LIGHT PULL)
CONTROL SURFACE LINKAGES OK
ENGINE SECURE NO MOVEMENT IN MOUNT
CORRECT FREQUENCY PEG FROM PEG BOARD
TRANSMITTER SHOWING FULL CHARGE
TRIMS IN CENTRAL POSITIONS (EXCEPT THROTTLE)
ALL CONTROL SURFACES MOVING IN CORRECT DIRECTION
ALL CONTROL SURFACES MOVING TO THE LIMITS OF TRAVEL
Before Take Off
ALL SURFACES MOVE IN THE CORRECT SENSE
ENGINE RUNS AT FULL POWER NOSE UP
Post Flight Check List
TRANSMITTER PLACED IN TX BOX
REPLACE FREQUENCY PEG ONTO PEG BOARD
CHECK UNDER CARRIAGE IS SECURE
CONTROL SURFACES (LIGHT PULL)